Costa Rican Coffee
Costa Rica is a relatively small coffee-producing nation, contributing only 1% to the world's coffee production. Despite the country's small geographic size, Costa Rica has a tremendous diversity of coffee profiles. Many Costa Rican microlots have produced Cup of Excellence winners in recent years. Microlots from Costa Rica are typically sourced from producers who have invested not only in growing their farms, but also in building and operating their own processing facilities. These "miromills" are independently owned by a specific family or a group of producers. Microlots carry the highest quality as well as the highest level of traceability.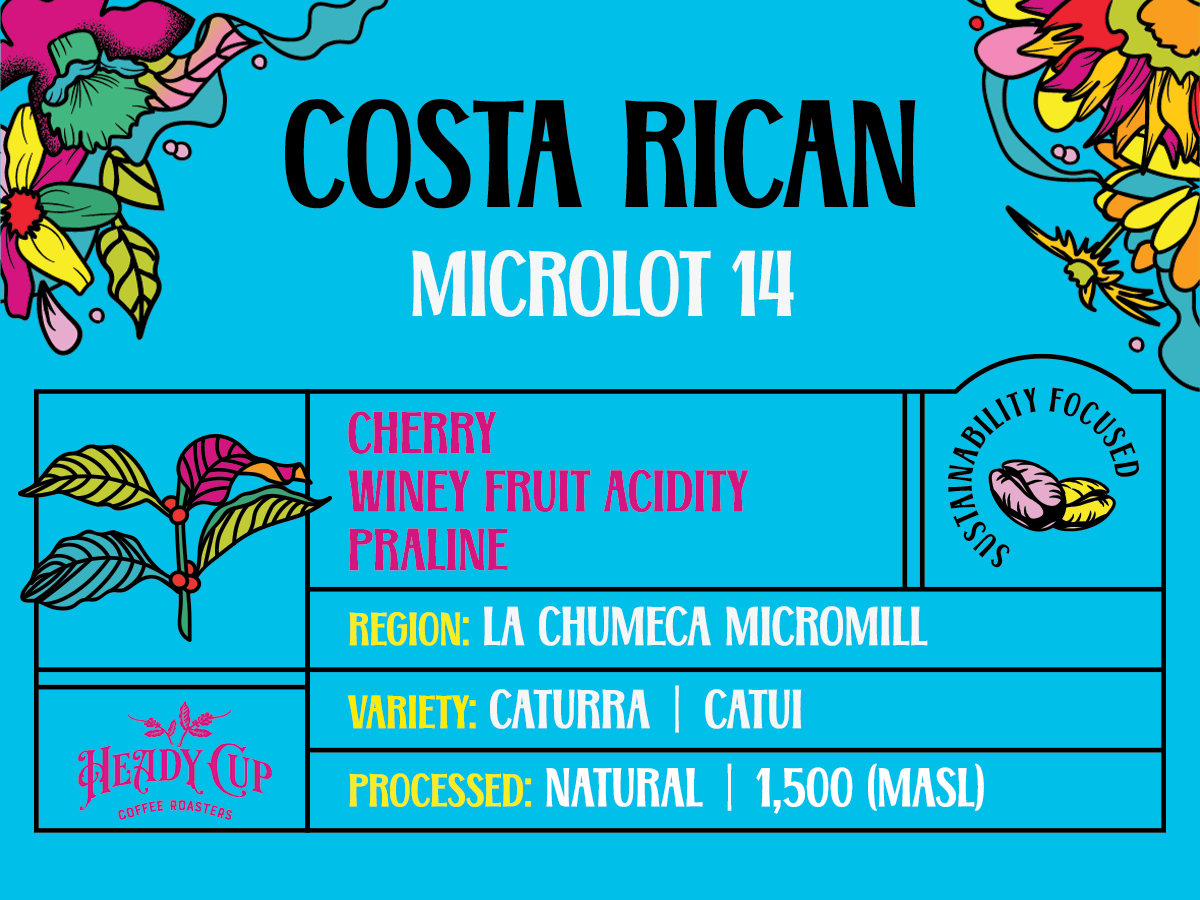 CHERRY | WINEY FRUIT ACIDITY | PRALINE
ORIGIN: COSTA RICAN
REGION: SAN ISIDRO de LEÓN CORTES
VARIETALS: CATURRA • CATUAI
DRYING PROCESS: NATURAL
ELEVATION: 1,500 (MASL)
FARMER: MARTÍN UREÑA • La CHUMECA MICROMILL • FINCA LA TRINIDAD
Lovely
I love Costa Rica coffee in general, so it's no surprise that I love this. My wife is a notorious "coffee polluter". She can't get a cup down unless it's full of sugar and cream and flavors. With this Costa Rica, she was actually enjoying it black and giving me tasting notes. That's a first.
We tried Aeropress first. She said the smell was clean, when she almost always turns her nose up at other coffees for being too smoky. The coffee was fruity, comforting, clean, faintest hints of bitter and smoke in way that just adds depth. Strawberry rosé kind of acidity. Hints of roasted praline sweetness as advertised. Almost like fresh lime and sugarcane notes. I've never had a coffee that was so perfect black, but also screams to be made into a milk drink. My wife made a concoction with oat milk and salted caramel flavor, and it was to die for. The next day we did Moka pot and everything was turned up to 11. Juicy, clean, delicious. Quite acidic. Each has its charms. Each is quite mellow, the acidity is not at all harsh.
Absolutely would order again. Amazing black, and possibly even better as a milk drink. I could have this every day for the rest of my life with no complaints.
Costa Rica Microlot 14
Nicely roasted, quality coffee from Costa Rica. Pour-over method yielded notes of cherry cola and fruit jam typical of caturra varietals. Would likely purchase again. This is a promising local roaster and I look forward to their future offerings.