Colombian decaffeinated
This decaffeinated coffee from Colombia was cupped specifically for its high quality. This is a true 'decaf de caña' - a custom decaffeinated Colombian coffee using a special, natural process. A solvent naturally derived from fermented sugar is utilized to decaffeinate the coffee. The coffee retains its amazing flavor but contains no caffeine at all.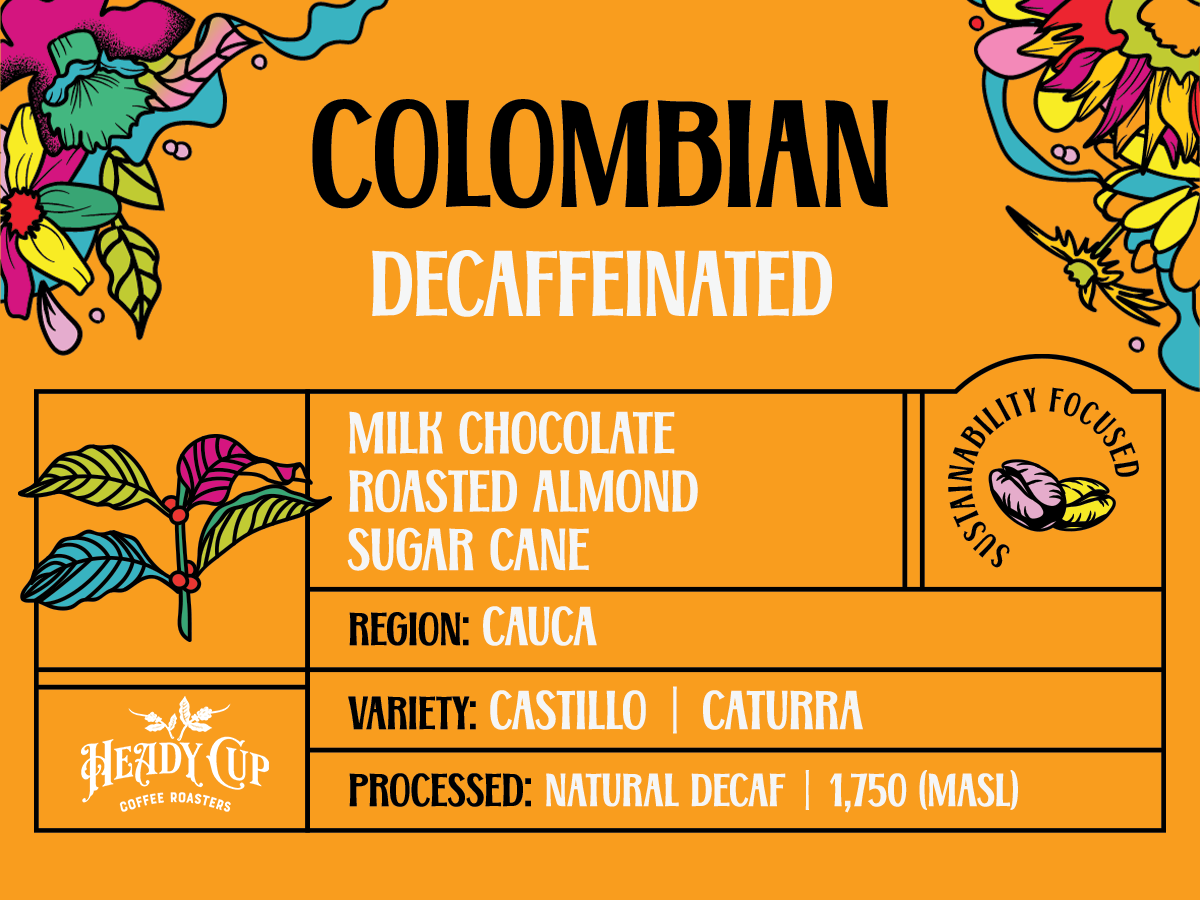 MILK CHOCOLATE | ROASTED ALMOND | SUGAR CANE
ORIGIN: COLOMBIAN
REGION: CAUCA
VARIETALS: CASTILLO • CATURRA
DRYING PROCESS: NATURAL DECAF
Elevation: 1,750 (MASL)
FARMER: VARIOUS SMALLHOLDER FARMERS
Lovely
I have made this coffee with about every method you can throw at it, and it's always a winner. I got this mostly to have a late night decaf espresso as a treat. It's been very easy to get consistent shots. On the initial smell it seemed like a medium roast, with some vegetal and alkaline notes, maybe from the decaf process. I get some plum and honey in the cup. Overall the flavor doesn't have a lot of surprises, it's just comforting and nice. This is exactly what I want out of a general-purpose decaf.
Happy customer!
The Colombian Decaffeinated is the best decaf coffee we have ever bought. Full of flavor and all the taste of regular brew.
Love the whole bean coffee! It's delicious and fresh and makes my mornings happy!!!
SoOoOo good!!
I love the taste of this decaf coffee and it's super cool that they offer doorstep delivery! Most importantly, these guys support small farms that practice regenerative farming practices and fair trade business practices AND they don't use chemicals to de-caffeinate. Commercial coffee is loaded with chemicals, gets their coffee beans from farms that destroy the environment and ecosystems, and exploits workers with poor conditions and low pay. Enjoy Heady Cup coffee and know your supporting a positive cause!